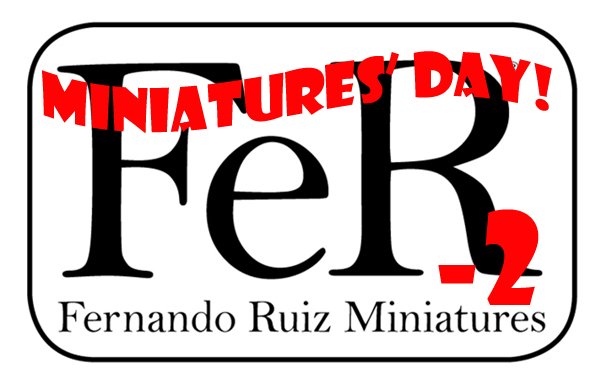 Hi all!
A quick update to let you all know that, besides Facebook, you can follow us now on Pinterest and Twitter too! For different reasons, we have decided to start being present at these social media sites. Pinterest is very cool, because you can arrange these nice galleries that are quite useful as inspirational tools now that we have nine different lines of miniatures. Twitter is quite immediate, cool to be updated anywhere and every time about our news. We have decided it was a nice move.
And also… there's only 2 more days left for our Miniature's day!
Remember:
– The offer starts at Friday, August, 21th at 10:00 AM (Spanish time, GMT +1) and ends at Saturday, August, 22th at 10:00 AM (Spanish time, GMT +1).
– During these 24 hours, all items at the FeR Miniatures online shop will be sold at 20% discount.
– Discount will be applied over prices WITHOUT VAT and then, this tax will be calculated over the final price. This only applies to European Union customers, as they are the only ones who need to pay this tax (in example: a 38€ 75 mm figure is 31,41€ without VAT. We apply the 20% discount to that and it is 25,13€. Over this price, European Union customers will have the VAT applied and the final price would be 30,41€).
– Shipping costs are not included in the discount.
– The offer will be valid during 24 hours or end of stock.
But don't worry, we will remind you when it is only one day left and also… show you the new releases for August!
Regards
FeR