Hi all!
Now that the dust has settled a bit after the company release, I take the chance for writing another post. First of all, I wanted to send a big THANK YOU to all of you, our customers, for the support and understanding you have shown in this first week of life of FeR Miniatures. During the last couple of days we were overloaded with work and orders, but now that everything is on its way, we only can say that we are very happy. Also, I want to remind you that you will find the figures in the usual shops that stocked them, as they have shown the same kind of big support as the average customer.
Let's talk about the new improved package of our miniatures:
As all of you know, we were selling the smaller busts and figures in polypropylene blister boxes. First time we saw this package, we felt in love with its simplicity and versatility. Now, we have managed to redesign the packages for the rest of the range in according boxes. That change has several benefits:
– A package equally resistant as a cardboard box.
– It allows you to see the contents without opening it.
– Can be opened and closed at convenience, without breaking or damaging the package.
– Once you remove the figure, it can be recycled for other uses.
– It is lighter, so we were able to revise the shipping costs policy.
Also, we have added small QR codes to the bottom of each boxes that lead to our website and also to special contents on some of the miniatures.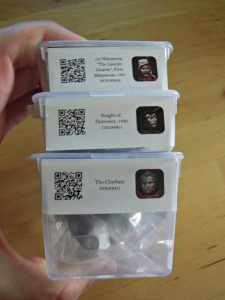 For the shops, it makes much more easy to stock and display the products, as they can be be easily piled or hanged in racks.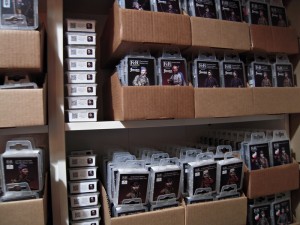 In our opinion, it is a very good overall change.
Also, we are happy to announce that our credit card payment system is finally working!
We are prepared to take payments from the three main credit cards, VISA, Master Card and American Express. We hope that this option, along the already available payment through Paypal and direct bank transfer, makes easier for you the whole process of completing your order.
That's all for the moment. Stay tuned for more news very soon…
Best Regards
Fernando Ruiz (FeR)