A-well-a don't you know about the bird?
Well, everybody knows that the bird is the word!
Oops! Sorry, I was thinking about something else, hehehe
I hope you all are enjoying the summer and not suffering too much with the hot weather. here in sunny Spain we manage as we can and it doesn't mean we are sitting idle! Actually here, in your favourite miniatures company, we have been working on some extra cool stuff to provide you with something cool and appropriate for the season.
We have been thinking on adding another pirate to the line for some time, but it had to be something magnificent, as the previous pirate with monkey by Pedro Fernández became an instant classic so the bar was set really high. During these days, we have shown you some hints:

But the wait is over. Behold!
Magna Historica
MHB01002 – Jean Fantin, St. Kitss, 1689 SPECIAL 125 COPIES LIMITED EDITION WITH PARROT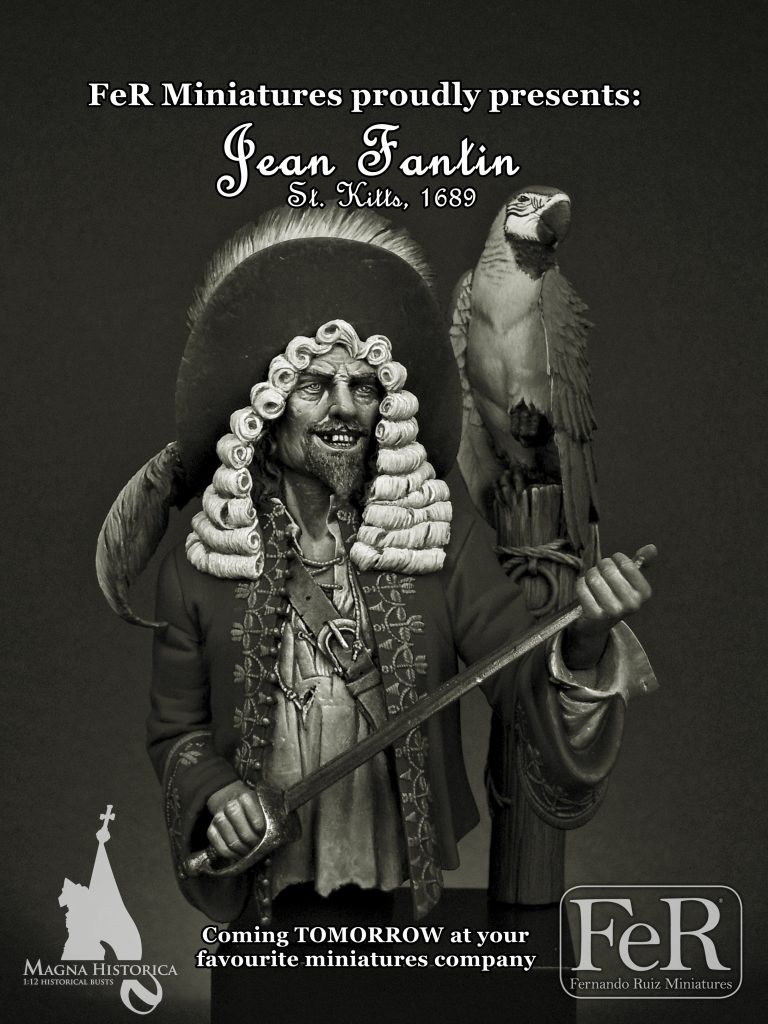 Sculpture: Pedro Fernández
Painting: Fernando Ruiz
Material: Resin
Number of parts of the kit: 5 (including the parrot)
Scale: 1/12
Tomorrow, we will make the bust available at our website, and you will be able to purchase it two ways; in a non-limited edition, available on the website and any of the retailer sales points, or as a limited edition boxed set of the pirate and the exclusive parrot, only available in our online store:
The set is strictly limited to 125 copies (you better keep your eyes open!) and will include:
– Jean Fantin bust.
– The parrot (name yet to be determined)
– A signed and numbered limited edition certificate.
– Some clues about an upcoming contest involving this kit in the form of a party object (!?)
Tomorrow we will reveal the final boxart pics in color and the bust will be released around 16h Central European Time, so set your alarms and do not miss this chance to get it 😉
Soon more news!
FeR