Hi there
Here we come again with EXTREMELY EXCITING new releases to help to cope with the heat!
First of all, that thing you all have been waiting for…
Future is Now
FIN01001 – Tsul, Whisper of the Sand LIMITED EDITION
Sculpture: Pedro Fernández
Painting: Marc Masclans
Material:  Resin
Number of parts of the kit: 11
Scale: 1/10
As we have already explained on our social media and previous newsletters, this is an "early bird" special edition of 150 copies of this set, which is only available through our website and includes the tugral figure as a gift for the same price as the regular edition. Once these copies are gone, the bust will still be available as any other regular piece from the catalog, but the creature will be gone forever.
We gave preferential anticipated access to the customers subscribed to our newsletter earlier on this week, and A VERY GOOD PORTION OF THOSE 150 COPIES ARE ALREADY SOLD, but there is still a significant number that we hope will be enough for the general public. If you don't want to miss any future promotion, we suggest that you join our newsletter here, it is easy and obviously free.
But also, we have something cooking for our historical busts customers, another fantastic subject by the tandem Ramón Martínez/Alfonso Giraldes:
Magna Historica
MHB00030 – Private, 8th Regiment of Foot, Les Cèdres, 1776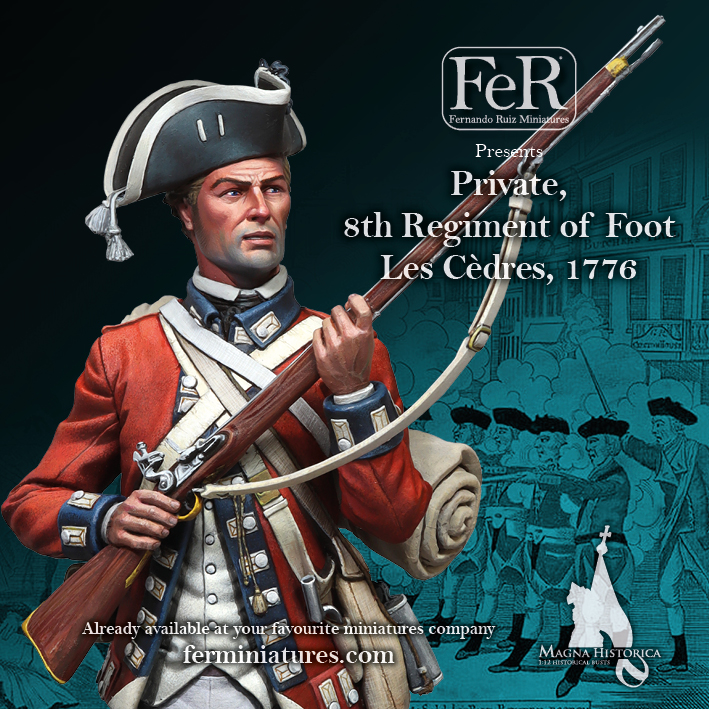 Sculpture: Ramón Martínez
Painting: Alfonso Giraldes
Material: Resin
Number of parts of the kit: 11
Scale: 1/12
And that's all for the moment. Have a nice start on this hot summer 😉
Cheers
FeR